Allowing Consumers to Protect Their Privacy and Opting Out of Receiving Junkmail
As a consumer, one of the most irritating things for a person is to sign up for a product or a service only to find out that their contact information has been sold, or shared, with other businesses without their knowledge. The vendors often hide the information in different documents, such as various privacy polices and agreements knowing well that the consumers won't have time to read, or even understand, the technical jargon and end up agreeing to things that are outrageous and unacceptable. In this article I will discuss some of the issues related to the way Microsoft allows consumers to manage their privacy and email preferences. Privacy issues have to do with how consumer information is shared with the vendors and the email opt-out choices are confusing at best, which makes it difficult to understand them.
Manage Your Communication Preferences
If you've ever signed up for a newsletter, downloaded any software, registered for a free seminar or interacted online with Microsoft in some way, chances are you have to create a Microsoft Account. A Microsoft Account refers to an account you use for Hotmail, Live, Outlook.com, or Xbox.com. When you sign up for one of these free accounts, you are often added to certain mailing lists. Microsoft allows consumers to manage their choices of receiving communications. This is done through the Manage Your Communication Preferences screen, as shown in the screenshot below. This screen is available in your Microsoft profile. You can also access this link from the promotional email that you receive from Microsoft. However, there are some interesting things to note that may not be too obvious at a glance.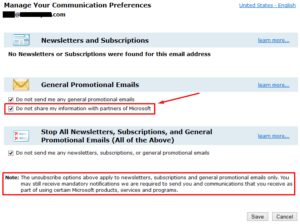 Notice there are three main sections:
Newsletters and Subscriptions
General Promotional Emails
Stop All Newsletters, Subscriptions, and General Promotional Emails (All of the Above)
Option Item #3 states that you are stopping all of the above, which means Newsletters and Subscriptions as well as General Promotional Emails. But what about sharing your information with partners of Microsoft? That's listed under General Promotional Emails section so you would imagine that it would be included in "All of the Above" option. However, if you read the note under the last option it very clearly states that "The unsubscribe options above apply to newsletters, subscriptions and general promotional emails only." It clearly excludes sharing of information with partners of Microsoft. Based on what the note says, "All of the Above" actually means "Most of the Above." This is very confusing to say the least.
So how do you think you will stop the sharing of your information with Microsoft partners? My guess, which is just as good as yours, would be that you would select the following two options, one from each section.
Do not share my information with partners of Microsoft (in General Promotional Emails section)
Stop All Newsletters, Subscriptions, and General Promotional Emails (All of the Above)
"Manage Your Communication Preferences" Simplified
If I were to translate Microsoft's Manage Your Communication Preferences into a simple example that is easy to understand, it will look something like this. When you cancel ALL fruit orders you will still continue to receive oranges because you never canceled the (hidden) oranges order in the apples section.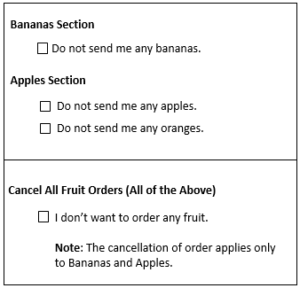 FAQs Adding to the Confusion
To add to the confusion, there is a Frequently Asked Questions (FAQs) section at the bottom of the screen where you manage your preferences. However, it contradicts with what I just told you. Now I am really not sure what is going on. The FAQs indicate that by selecting the third option you will be removing yourself from all the emails, including Microsoft Partner Communications. If that's true, that's good news but Microsoft should have added that to the section where you manage your communication preferences, not to the FAQs. You shouldn't have to read the FAQs to make the correct choices. And even if you read the FAQs, how would you know whether the choices at the beginning of the page are correct or the FAQs because they say two opposite things?
There is also some bad news hidden in the FAQs. Even if you ask Microsoft to not share your information with Microsoft partners, you may continue to get emails from them if you have agreed to receiving any emails from them before (see the screenshot below). Of course, everyone who signed up using a Microsoft account agreed to it because that is the default setting. The damage has already been done. Your information is already sold, shared or given to partners in some form. Now if you want to remove yourself from Microsoft partners' mailing list you have to contact Microsoft partners directly.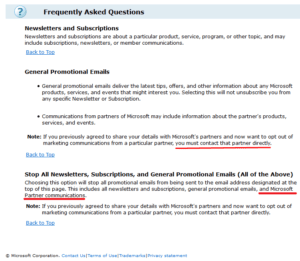 The point I am making is this. The way Manage Your Communication Preferences screen is designed is very confusing and the information is contradictory. Microsoft perhaps intended to have the last section actually let people opt out of all the emails, including the partner emails, but that's not what the screen says. In addition to the confusion, there are some privacy issues that need to be addressed. I am not an attorney so I can't tell you anything from a legal perspective. All I know is that vendors literally hide information using some clever techniques and are making increasingly difficult for consumers to easily protect their privacy. In this case, I will give Microsoft a benefit of doubt and will just blame it on the bad design. Or perhaps two different people authored this page. One did the top half and the other wrote the FAQs. They probably never talked to each other and nobody at Microsoft bothered proofreading the entire page. How is this even possible that Microsoft would post legal stuff on their Web site that affects the privacy of hundreds of millions, if not billions of people on the planet, and no one bothers to proofread this stuff before posting it on the Web is beyond me. Microsoft can fix this page by following my suggestions in the last section in this article.
How Does Microsoft Measure Up Against Its Competitors?
Compared to some of the big names in the industry, when it comes to privacy, Microsoft is relatively the good guy. Google is considered by privacy advocates as among the worst offenders of privacy. In 2007, Privacy International (PI), a human rights research and campaign organization, prepared a report following a six-month investigation into the privacy practices of key Internet-based companies, which included Amazon, Yahoo!, Microsoft, YouTube, Apple, Facebook, BBC, etc. Based on the study, PI ranked Google at the bottom of the stack. What about Facebook and privacy? Well, Facebook makes Google look like Mother Teresa of privacy. That's why I said, compared to its competitors, Microsoft should be considered the good guy. In fact, most IT leaders trust Microsoft more than Google. Check out my blog post IT Leaders Trust Microsoft More Than Google…..Duh!.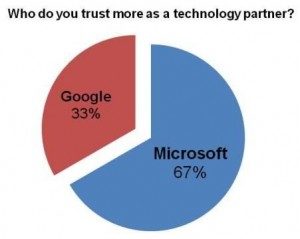 Where Microsoft Has Fallen Short
I have been writing about privacy issues for more than a decade. In 2003 I wrote an article for InformIT about Windows XP Professional secretly sending information to Microsoft and other vendors called Tired of Windows XP Phoning Home?. I understand that Microsoft later decided to stop the so-called "phoning home" practice. In fact, then CEO Steve Ballmer didn't like the practice of phoning home. He said in an email memo to his customers, "There are risks in offering this option to have software 'phone home' like E.T. One risk is that error reporting could compound a customer's irritation over the error itself."
In 2004 I wrote an article about Microsoft's privacy policy for WindowsMedia.com: A Closer Look at the Fine Print in Privacy Statement. The findings were shocking to most people. However, there are some privacy areas where Microsoft deserves credit and they should be highlighted.
Where Microsoft Deserves Credit
Some people are quick to criticize Microsoft but don't give credit when the credit is due. I believe Microsoft should be given credit when it makes improvements, or reversals, to its policies that are not in the best interest of the consumers. In June 2013, Xbox chief Don Mattrick announced that Microsoft is reversing its Xbox One always-on DRM policy. Here's how CNET reported the news: Microsoft pulls a 180, reverses Xbox One always-on DRM and used games policy. James Martin of CNET wrote:
"Microsoft backtracked Wednesday on its much-derided policy that would have required Xbox One gamers to connect their consoles to the Internet once a day to prevent game piracy.
Microsoft faced a huge backlash when it announced the policy , just before the E3 video game conference earlier this month. Then, the company said it would allow gamers to play offline for up to 24 hours on a primary console, or 1 hour if they were logged onto a separate console accessing their library of titles. At that point, offline gaming would have been disabled until players re-establish a Web connection."
Here's another example where Microsoft has been given credit for reversing one of its policies. After Microsoft faced criticism from privacy rights advocates, Microsoft's General Counsel & Executive Vice President, Legal & Corporate Affairs Brad Smith announced in his blog post "We're listening: Additional steps to protect your privacy" that Microsoft will no longer inspect personal data when a crime is suspected. It will instead let the law enforcement decide the right course of action. Mr. Smith said:
"Last Thursday, news coverage focused on a case in 2012 in which our investigators accessed the Hotmail content of a user who was trafficking in stolen Microsoft source code. Over the past week, we've had the opportunity to reflect further on this issue, and as a result of conversations we've had internally and with advocacy groups and other experts, we've decided to take an additional step and make an important change to our privacy practices.
Effective immediately, if we receive information indicating that someone is using our services to traffic in stolen intellectual or physical property from Microsoft, we will not inspect a customer's private content ourselves. Instead, we will refer the matter to law enforcement if further action is required."
Are other large corporations willing to follow Microsoft's steps and make similar changes to their policy? I seriously doubt that Apple, Google, Facebook or any of the other big corporations will follow suit anytime soon. Just for this reason alone, I would imagine many who are using Google and Yahoo! mail would seriously consider switching to Microsoft's free online email, such as Outlook.com, Live or Hotmail. Wouldn't you?
Feedback to Microsoft
Here are some suggestions for Microsoft to consider.
Allow consumers an option to opt out of all emails, including Microsoft partners communications.
Make it easier for consumers to opt out.
Fix the contradiction on the Manage Your Communication Preferences page so the information in the FAQ matches with the information in the area where consumers make their choices as explained in this article.
Move the box Do not share my information with partners of Microsoft out of the section General Promotional Emails and put it in its own section, or update the note at the end of Stop All Newsletters, Subscriptions, and General Promotional Emails (All of the Above) section so it matches with what's in the FAQs. Currently, it states "The unsubscribe options above apply to newsletters, subscriptions and general promotional emails only. You may still receive mandatory notifications we are required to send you and communications that you receive as part of using certain Microsoft products, services and programs." Instead it should say "Choosing this option will stop all promotional emails from being sent to the email address designated at the top of this page. This includes all newsletters and subscriptions, general promotional emails, and Microsoft Partner communications."
Avoid using the following logic in Manage Your Communication Preferences because mixing apples with oranges is confusing and doesn't make sense.

Give people the choice to opt out before they sign up, not afterwards, because once you have already sold, shared, or given the information to your partners it is too late for people to opt out because the damage has already been done.
Please don't make sharing consumers' information the default option. Let people decide if they want their information shared with other vendors.
Related Articles
Here are links to some additional privacy articles and blog posts that I have written in the past.
---
Copyright © 2014 SeattlePro Enterprises, LLC. All rights reserved.