How to Remove VCast Media Manager Mode Selection (VMMModeSelection.exe) from Your Computer
If you've found VMMModeSelection.exe on your computer, you might be wondering what the file does and how to remove it from your computer if you don't need it. In this article, I will provide some answers and offer a solution. I will share much more detail in this article than I normally share for topics like this because I want you to be able to use this article as a guideline for all future issues that you may encounter with applications that show up on your computer and you don't know what to do or how to remove them from your computer.
What is VMMModeSelection.exe?
VMMModeSelection.exe is the VCast Media Manager Mode Selection software from HTC. The most likely reason that this file exists on your computer is that you have an Android phone and at some point you installed this software, or simply connected your phone to your PC and it installed the software for you. For example, it may have been installed with Samsung USB Driver for Mobile, or any other HTC driver used on an Android mobile phone. Frankly, HTC software developers have done a very poor job of developing this software. Although the file is digitally signed, the company decided to stay anonymous and doesn't provide any detail about the software…no copyright information, no product name, no product version, and no file version. Why would a company want to stay anonymous? You are going to discover the answer later in this article.
One way to find out who the software publisher is to look at the digital certificate and see that it was issued by VeriSign to HTC Corp. Another way to find out is to look under the C:\Program Files folder on your Windows computer and note that it was installed in the HTC folder. Of course, you can also look in the Registry in either the HKEY_LOCAL_MACHINE\SOFTWARE hive or HKEY_CURRENT_USER\SOFTWARE hive.
The Location of the File
By default the VMMModeSelection.exe file is installed in the folder C:\Program Files\HTC\ModeSelection on a Windows computer.

It is also added to the Startup folder and you can see it in the Task Manager. Notice HTC doesn't display the name of the company so the Publisher column is blank. This makes it difficult for people to find out who the software publisher is and whether they should be worried about this anonymous file or not.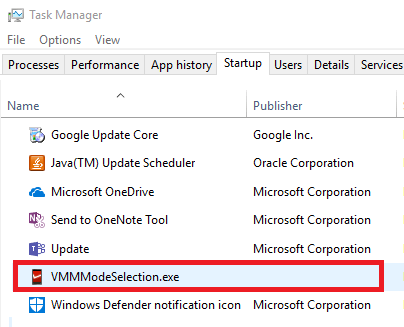 File Details
To view more information about the file, follow these steps.
Right-click the file C:\Program Files\HTC\ModeSelection\VMMModeSelection.exe and select Properties.
Click the Details tab and you will notice there is no useful information about the product name, version, file version, copyright information, etc. This HTC software is a great example of how not to develop a software and most reputable companies will be embarrassed to publish such a software. While this is not the only indication of how good or bad a software is, I just randomly grabbed another software to show what you will find on a Microsoft software. Compare the properties of HTC's executable file with Microsoft's Network Monitor executable file side-by-side.
 
Click the Digital Signature tab and then click the Details button in the middle of the window.
You will see the digital signature details on the General tab, including the company name. The Advanced tab displays the technical details about the certificate.
Click the View Certificate button in the middle of the window to look at the certificate information. Notice the certificate was issued by VeriSign to HTC Corp. and was valid from 1/16/2013 to 2/16/2014. These type of code signing certificates are different than the Secure Socket Layer (SSL) certificates that are used on the Web sites to purchase products. The SSL certificates must be current and should not be used if they have expired.

Should You be Worried About this File?
The short answer is YES.
Here's the long answer. This file is not an actual virus so it won't be detected by your antivirus software and in that sense it is safe. However, it acts just like a virus and was designed to act very much like a malware. Malware stands for Malicious Software and includes all harmful software, such as spyware, virus, adware, ransomware, keylogger, etc. McAfee antivirus is another example of software that is very annoying and is considered to be a "virus" by some security experts. I have issues with software that acts like a virus, whether it is actually harmful or not. If a software cannot be removed, or was intentionally designed so people cannot remove it from their computers easily (just like McAfee is notorious for it), then the software should be treated as a malware. Here are some of the issues I have with VMMModeSelector.
This program cannot be removed by going to Windows 10 Control Panel -> Uninstall a program because it's not listed there, which generally means the software publisher intentionally wanted to prevent users from removing the software. This is a common practice with viruses, spyware, and other malware products because their developers want to ensure that users are unable to remove the harmful software. HTC has decided to align with them.
This program cannot be removed from All Programs in Windows 10 Start menu because it doesn't show up there. Another proof that HTC wanted to hide this program from the users.
This software is automatically configured to start with Windows. You can see it listed in the Start tab in the Task Manager (see the second image at the beginning of this article) but it can't be removed from there. You can, however, right-click the executable file and disable it in the Task Manager. This still won't remove the program from your computer, it will only prevent it from running at the startup.
This software doesn't list the details about the software and publisher that is helpful to users and technical support professional.
Hackers can name their software VMMModeSelection.exe and be ignored by the users who may think it is a valid file. With their bad software development practices, companies like HTC are contributing to the factors that risk security.
If a software cannot be removed, and is essentially hidden for all practical purposes, it can make the system unstable and slow over time when it becomes outdated or is not updated regularly. VMMModeSelection.exe is known to have caused problems with its outdated versions by slowing computers and popping a lot of errors.
Software that is hidden, or cannot be removed, is a security risk for any computer.
Just because this program is not detected by your antivirus doesn't mean that it can't mess up your computer. As I mentioned earlier, outdated versions of this software have been known to cause several problems in the past.
How to Remove VMMModeSelection.exe?
Because this software is designed like a virus, is hidden from the Control Panel, and doesn't offer any way to remove the software from the computer, it is not easy to get rid of it using the traditional methods. Here's what I recommend you do to remove this software.
WARNING! I don't know all the consequences of removing the file in question and am sharing my own experience just to help those who can benefit from my knowledge. Remove VMMModeSelection.exe at your own risk and install the recommended software at your own risk. If you are not an expert in using the Windows Registry, stay away from it and call a professional support person for assistance.
I use tons of tools, but I am going to use the free PC-Decrapifier as an example in this article. Download and install PC-Decrapifier. Of course, you can use any other software of your choice to remove unwanted software.
Start the application and click Analyze.
Once the application has analyzed all your applications, you will see three tabs. This HTC application may not be listed on the Recommended tab or Questionable tab, so click the Everything Else tab. This is where all the "good" applications will be listed.
Select only the VMMModeSelection.exe application and click Remove Selected.
The software should be removed in a few seconds.
Go to the Task Manager. You should no longer see VMMModeSelection.exe listed there. That's good news.
Go to C:\Program Files\HTC\ModeSelection. Don't be surprised if it the HTC folder and the file is still there. I told you this program acts just like a virus and is not easy to remove. If you were to double-click the file to execute the program you will see the following message.

If you have the administrative privileges on your computer, you can delete the C:\Program Files\HTC folder. If you see the Folder Denied Access pop-up window, click Continue.

Congratulations! You have successfully removed VMMModeSelection.exe from your computer.
It's a good idea to run such a program on a regular basis to clean up unwanted software from your computer.
---
Copyright © 2017 SeattlePro Enterprises, LLC. All rights reserved.