How to Change the Location of SharePoint Drafts Folder
When you add a SharePoint Library or List to Microsoft Outlook 2007 you will notice it uses SharePoint Drafts folder (in your default documents folder) on your computer. You may want to change the location for convenience, or you may be interested in backing up the files in the drafts folder that is used by various Office applications. There are at least three different methods that I know to change the location of the drafts folder.
Method 1
You can change the location of the SharePoint Drafts folder while working offline in Outlook 2007 by using the Edit Offline option. For details please see my blog post Adding SharePoint Libraries and Lists to Outlook 2007.
Method 2
The location of SharePoint Drafts folder can also be changed in Outlook 2007 as described below.
1. Start Outlook 2007 and go to Tools, Options.
2. Click on the Other tab.
3. Under the General section click on the Advanced Options button.
4. Click Service Options button at the bottom.
5. Click Offline Editing Options.
6. Change the location in the Server drafts location box.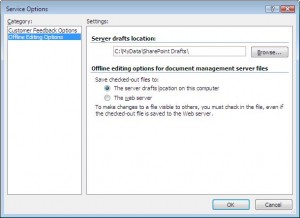 Method 3
Because Outlook 2007 is part of Office 2007, you can edit this location from other Office 2007 applications, e.g. Word 2007.
1. Open Word 2007.
2. Click the Office button in the top left hand corner and then click Word Options.
3. Click Save (fourth item from top in the list).
4. Change the location as shown below.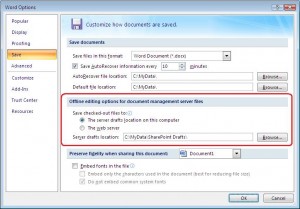 For other Office 2007 applications you can go to the same location. For example, click on Office button and then go to Excel Options, PowerPoint Options, etc.