Helpful Tips for Spammers, Security Advice for Normal People
I don't recall writing an article just for the spammers. But there are some spammers who are so __________ (you fill in the blanks) that they desperately need help. This article is written for spammers but it's also useful for non-spammers who are concerned about security and identity theft.
Here's an example of what not to do when you are a spammer. I will use the following spam message as an example.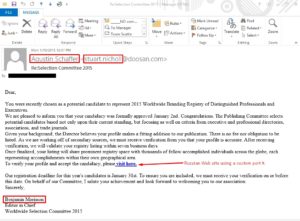 For those of you who are spammers, here are some tips to keep in mind. For those of you who are normal people, this is how to tell whether a message is legitimate or not.
Don't use one name for the sender (Agustin Schaffer), a different email (Stuart Nicholl) for the email address, and yet a third name (Benjamin Morisson) in the signature at the end of the message. Some people may get the idea that you are not the same person.

Please make sure that you spell your name correctly because otherwise you may come across as a complete illiterate, especially when you are the Editor in Chief of Worldwide Selection Committee 2015. If your name is really spelled Morisson then that's okay but as a spammer you may want to consider it spelling like most people in the world spell it….Morrison, with 2 Rs. It will make you look believable.
TIP: If you don't know how to spell something just Google it.
Most of us Americans don't post our personal profile on a Russian Web site that is using a custom port number. Please avoid making these silly mistakes. At least use a Web site in the United States and don't use custom port numbers because they may make you look like a spammer.
Don't send messages with the subject RE:Selection Committee 2015. When the subject includes "RE:" at the beginning it means that you are responding to the recipient's request. This is a dead giveaway because people will know you are a spammer and will delete your email without opening it.
You deserve a credit for at least copying and pasting a legitimate email into your message. However, when you send out emails and use the salutation "Dear", you are expected to add the recipients name, like Dear Bill or Dear Susan. I realize that as a spammer you don't know the recipient's name, and that's a bummer, but at least try to make your message look more real. Remember, you are not sending this message to your wife or girlfriend so don't address total strangers as just "Dear."
If you want to be a spammer, try using some common sense. It may hurt in the beginning but eventually you will get used to it.
To become a more believable spammer you need some serious education but the problem is that if you become educated you are unlikely to continue spamming people. Well, that's something to think about.
---
Copyright © 2015 SeattlePro Enterprises, LLC. All rights reserved.