U.S. to Begin Issuing Electronic Passports
According to the U.S. State Department, United States will begin issuing electronic passports starting December 2005 to enhance border security and prevent forgery. The electronic passports will essentially have the same information that we currently have inside our passports, embedded in a computer chip in the passport back cover. The read-only digitally signed chip is called a radio-frequency ID or RFID chip. The information on the chip will include name, gender, date of birth, place of birth, dates of passport issuance and expiration, passport number and a photograph.
The State Department says that the data can be read only within four inches, but critics contend the signal can be detected from as far away as 60 feet. The new passport will cost $97, or $12 more than the traditional version.
According to the State Department, the new U.S. e-passport design will reflect the varied landscapes of our country and each page will include a quote reflecting the hope and success that is the United States of America. Here's a sample image of what the new e-passport will look like.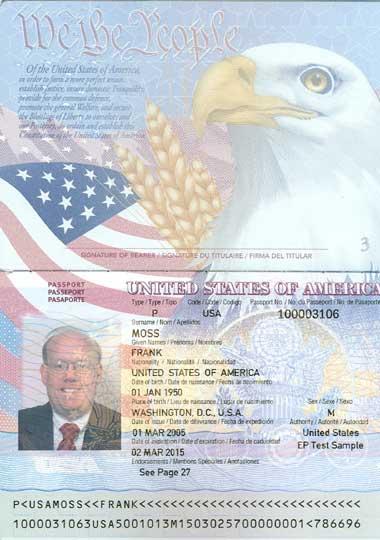 Here are some additional articles on this topic.
1. The U.S. Electronic Passport
2. Electronic passports set to thwart forgers
3. Electronic Passports May Make Traveling Americans Targets, Critics Say