UW Develops an Android App that Detects Signs of Sleep Apnea
According to WebMD, "sleep apnea means that your breathing often is blocked or partly blocked during sleep. The problem can be mild to severe, based on how often your lungs don't get enough air. This may happen from 5 to more than 50 times an hour." An estimated over 25 million Americans are believed to be affected by sleep apnea. Depending on the type of apnea, it can be a serious health risk. There are three types of sleep apnea: Obstructive Sleep Apnea (OSA) is the most common type of sleep apnea that makes up about 84% of the cases. A less common type of apnea (only about 0.4% of the cases) is called Central Sleep Apnea (CSA), which can occur in people who have had a stroke, heart failure, or a brain tumor or infection. The third type is called complex or mixed sleep apnea. This is a combination of the two other forms of apnea and makes up about 15% of the cases.

University of Washington (UW) has developed an Android app that can detect signs of sleep apnea at home. And that's not the amazing part. The amazing part is that the app can be as accurate as the hospital devices 98% of the time. According to GeekWire news:
"ApneaApp isn't yet available to consumers, and may not be for a couple of years. But the UW says a clinical study has shown its high rate of accuracy when compared to hospital polysomnography, a more intrusive and expensive evaluation that requires an overnight hospital stay and costs thousands of dollars.

The new app runs on Android smartphones that have at least two microphones, such as the Samsung Galaxy S4 and S5, and the HTC One. It works by using inaudible sound waves that come from the phone's speakers to keep track of breathing patterns. It can distinguish between two different sleepers (as long as they're about 10 centimeters apart), requires no attached sensors, and — significantly — is far less costly and disruptive than what is considered the "gold standard" of the overnight hospital test."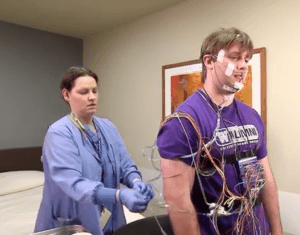 The researchers at UW are planning to get the approval from Food and Drug Administration (FDA), which can be pretty expensive. The research is still ongoing so it may be a few years before you will be able to download the app for your smartphone. They also plan to present their clinical study at the MobiSys 2015 conference in Florence, Italy, that will take place in June. Also in June UW will present an abstract at the Associated Professional Sleep Societies meeting in Seattle.
Check out the video below.
For more information on ApneaApp click the image below.
---
Copyright © 2015 SeattlePro Enterprises, LLC. All rights reserved.