Unable to Access Gmail in Any Browser But All Other Sites on the Internet Are Accessible
In addition to Microsoft Outlook client, I also use different Web-based email clients on a regular basis, including Outlook.com and Gmail. There is one problem that I run into with Gmail that has been bugging me for about a year. This is an ongoing problem that other people have also encountered. Here's the problem and a solution.
PROBLEM
Once in a while if my Internet connection is lost, even for a second, I lose connection to Gmail. Even if I reboot my router my Gmail connection is lost but I can access all the other sites on the Internet, including Google. I get the following error when I lose the connection and try to refresh the page in Firefox.
Server not found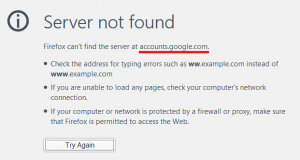 I am also unable to access Gmail in Internet Explorer and the error says:
This page can't be displayed
Make sure the web address https://mail.google.com is correct.

I have been searching for a solution on the Internet for quite some time. I have tried numerous suggestions in forums, messed around with about:config (I use Firefox as my primary browser), enabled/disabled the add-ons, temporarily disabled the firewall, cleared the browser cache, history and cookies; renewed my IP address, cleared the ARP cache, cleared NetBIOS cache, Cleared DNS cache, added Google's DNS server to my Hosts file, added Gmail to my trusted site in the browser and and a whole lot of other options that I won't bother listing. The only thing that works is rebooting the computer. That's not very convenient when I am in the middle of doing multiple things and have several applications open. Logging out and logging back doesn't help either. I had to reboot the computer to get Gmail working.
I would like to point out a few things.
I can get to every site on the Internet, except https://mail.google.com and therefore I can't access Gmail. I seem to lose connection only to the mail server because I can't ping mail.google.com successfully.
I can get to https://accounts.google.com but when I click to sign in I get the above "Server not found" error.
I can get to Google and search the Internet without any problem.
I cannot access Gmail in Firefox, Internet Explorer, or Chrome unless I reboot the computer.
SOLUTION
Apparently, for some people the Gmail connection is restored if they wait long enough. Well, may be I didn't wait around long enough for me rebooting was the only thing that worked until I finally found a solution. I read somewhere in a forum that by adding Google's DNS server directly to my PC's IP configuration I can get to Gmail. Well, that works and I don't have to reboot my computer to revive my Gmail connection any more.
Adding Google's DNS server directly to your PC's IP configuration permanently is not really a viable solution for anyone. But don't worry. All you have to do is temporarily add the Google's DNS server (8.8.8.8) to your IP settings, access Gmail and then change the settings back right away. This works 100% of the time, takes very little time and I don't have to reboot my computer. Here's what you can do when your Gmail becomes inaccessible.
Go to your computer's IP settings. In Windows 8.1 go to Control Panel -> Network and Internet -> Network and Sharing Center.
Click on Ethernet under Connections.
Click Properties and then double-click Internet Protocol Version 4 (TCP/IPv4).
Your screen should look similar to the screenshot below. Most computers are configured to obtain an IP address and DNS server address automatically from a Dynamic Host Configuration Protocol (DHCP) server.

In the lower section select the radio button Use the following DNS server addresses.
Enter 8.8.8.8 for the Preferred DNS server, as shown in the screenshot below.

Click OK and then click Close.
Go to your browser and refresh the page (F5). You should be able to access Gmail. You will also be able to ping mail.google.com successfully.

That's it. It takes very little time to change the setting and switch it back and there's no need to reboot the server. For some reason the Google's mail server becomes inaccessible and needs to be nudged. I have yet to experience this kind of issue with any other server in the world. Based on people's comments in the forums this issue has been around for at least 3 years that I know of. I still don't know the exact reason why only Google's Gmail server goes off the radar for people around the world but at least I have a workaround that doesn't require rebooting my computer all the time.
---
Copyright ©2014 Zubair Alexander. All rights reserved.