Microsoft Surges with TechNet/MSDN Search
It's no surprise that Microsoft is working hard on improving its search services. They've got loads of information on TechNet and MSDN sites that is searched by thousands of people each day. I heard that Microsoft has been working on its search for some time now so I figured it's worth checking out. So, for the past 10 days I decided to use TechNet Search & MSDN Search exclusively to see if they are any good. Here's what I discovered.
First of all, I should point out that both TechNet Search and MSDN Search are powered by Microsoft's Live Search. However, that doesn't mean that you should expect the same results from all three. They may be powered by the same engine but depending on which of the three searches (Live, TechNet, or MSDN) you use, the results you get are very different. Live Search results are more generic in nature, while TechNet and MSDN Search results are more targeted.
To prove this point do a search on a topic, for example Web Management Service on Live Search, TechNet Search, and MSDN Search. You'll see exactly what I mean. Now, one might expect Microsoft to do a better job at searching their own Web site but that has not always been the case so people are naturally suspicious when it comes to using Microsoft's search engine. Even the folks at Microsoft, at least in the past, have been using Google as their primary search engine. But that might be changing now. Microsoft has made some major enhancements in its search engine and I thought I should definitely take a closer look.
I decided to give TechNet/MSDN Search a try with an open mind. As I mentioned, I have been using it for the past 10 days and I must admit that I am impressed enough that I have added TechNet/MSDN Search to my primary browser (Mozilla's Firefox).
Adding TechNet/MSDN Search to Your Browser
You can add TechNet/MSDN Search to your Internet Explorer browser by clicking on the link Get our search on either TechNet Search or MSDN Search page. You could also use the drop-down box in the upper right hand corner but using the Get our search link is much quicker. The TechNet Search is shown in the screen shot below. You will be given the option to make TechNet Search your default search by checking a box. Unlike other vendors, like Apple, who forces you to install iTunes, even if you were only interested in installing QuickTime, Microsoft was kind enough to let us decide what we want to do……simply add the search or add it and make it the default.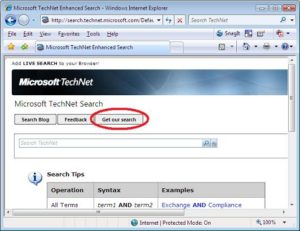 If you are using a Firefox browser, go to TechNet Search or MSDN Search page and then click on the drop-down button in the upper right-hand corner. You will see the option Add "Search Msdn", as shown below. Don't forget to first go to the Search page or else you will not see TechNet or MSDN listed in the drop-down box.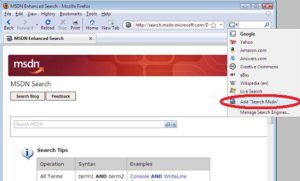 Cool Features
I discovered several nice things about TechNet/MSDN Search that are worth mentioning. You have the ability to refine the search by topic or source, which I really like. The auto complete is yet another useful feature (Google refers to this feature as Suggestions). I am also pleased with the overall speed at which TechNet Search displays the results. However, compared to Google I believe Microsoft is slightly behind in this aspect, but not by much. The lack of ads is another major reason why I decided to make TechNet/MSDN Search my preferred search for Microsoft-related topics. Do I prefer Live Search over Google? No! Not yet at least. Do I like TechNet/MSDN Search enough to use it and to recommend it to my students and other colleagues for Microsoft-related searches? Absolutely!
Room For Improvement
There is definitely room for improvement. The refinements could use some refinement. Autocomplete is good but needs to get better. The areas that Microsoft needs to work on the most to become a serious player in the search business are quality/relevance of hits and speed. One thing that I would like TechNet/MSDN Search to do is to offer better hits when searching for error messages. Unfortunately, when I used Event Viewer error messages in my search the results were disappointing. Another thing I would like Microsoft to improve upon is that the Search needs to be more forgiving and flexible. I discovered that unless you type the words in a way Microsoft Search expects, you may not get good results.
Let's look at some specific examples. While working at a client's site, I used copy and paste to search for an Event Viewer error message "Security policies were propagated with warning. 0x57:The parameter is incorrect." TechNet Search found no results, while Google had dozens of hits and I found the answer on the very first page. At another time I was searching to find an answer with an issue in Exchange Server 2003. I typed "Exchange 2003 last logon by field". TechNet Search had 49 hits but none of them were really relevant because I didn't use the words "logged on by." The first two hits on Google were pertinent. But when I typed the words "Last logged on by", Google came up with several hits and the hits were okay but TechNet's search results were excellent with far better results. That's what I mean by TechNet Search not being too forgiving. Hopefully, over time these issues can be corrected.
One of the major challenges that Microsoft faces is to convince the general public that Microsoft's Search is a viable contender in the industry and therefore it deserves a serious consideration. TechNet and MSDN's enhanced search is a good place to start.
NOTE: TechNet/MSDN Search is designed to search information only on Microsoft's Web sites and therefore ideal for searching only Microsoft-related technical data. You might want to keep that in mind when you compare it to Google or other search engines. If you want to search the entire Internet, Microsoft offers Live Search as an alternative to Google and Yahoo.
Conclusion
Overall, I am quite impressed by Microsoft's efforts to enhance TechNet/MSDN Search. There are several reasons why I find TechNet/MSDN Search more appealing than Google for Microsoft-related topics.
Among other things, TechNet/MSDN Search:

– Has a cleaner look and feel
– Is fairly fast (but could use some improvement)
– Is very readable
– Is quite easy to use
– Contains links for the next page(s) on top (in addition to the bottom)
– Lets you refine searches by topic or by source……very cool!
– Let's you add RSS feed with one click of an RSS feed button
– Unlike Google, no distracting ads plastered on the search result pages
Obviously, at this stage I haven't used TechNet/MSDN Search for very long and my findings are based on a relatively short time frame of experience but here's what I find very interesting. When Microsoft gets serious about something, watch out! There are numerous examples that can be cited. Internet Explorer was not a serious contender in the days before the browser war began. Netscape, the only player in town at one time, is now only mentioned in the history books. Why? Because Microsoft got serious about its browser.
Going back even further in time, Microsoft had hoped that NetBEUI would be the protocol of choice for everyone. When the rest of the world didn't like Microsoft's idea and TCP/IP also became the protocol of choice for the Internet, Microsoft got serious and made tremendous improvements to the TCP/IP protocol suite. Since then perhaps Microsoft has made more improvements to the TCP/IP stack than anyone else in the industry. It's this "getting serious" business that should be noticed. Sure, there are other signs that you can point to (like efforts to acquire Yahoo) that one might think that Microsoft is willing to invest heavily to compete with Google in the search war. But it's what Microsoft has done with the TechNet/MSDN Search that makes me want to believe more that Microsoft is really getting serious about this search business. Talk is cheap, actions speak louder. And that is bad news for Google.
---
Copyright ©2008 Zubair Alexander. All rights reserved.