Master of Science in Cybersecurity and Information Assurance from Western Governors University
Yesterday I completed my Master of Science in Cybersecurity and Information Assurance degree from Western Governors University (WGU). It was an amazing experience. I never thought in my wildest dreams that I will go back to college…..again……after all these years. However, this opportunity was so great that I would have been foolish not to take advantage of it. I absolutely loved the experience. In fact, I loved it so much that I decided to spend time to write this review. I don't have any relationship with anyone at WGU before or since the graduation, other than my professional interaction as part of the graduate program. And no one at WGU has asked me to write about my experience. I just thought there are folks out there who can benefit from my review.
What is WGU?
The WGU is an accredited, non-profit, online university. It was founded by 19 bipartisan United States governors in 1997 and started accepting students in 1999. If you are interested in learning more about the university and how it started, check out the WGU Story.

How is WGU Different?
WGU is different from the traditional colleges in many ways. What's interesting about WGU is that they are a competency-based educational institute. This means they don't count the credit hours or how much time you spend in a classroom, instead they focus on real-world education so when you graduate, you have the right skills to be successful.
Another big difference, in fact advantage, is that you get to decide when and where you want to study. The "Student Mentors" are there to help you guide and work with you to come up with a plan that works best for you. Each student gets a dedicated Student Mentor who's goal is to get you through the program successfully. This flexibility is one of the primary reasons that I decided to attend WGU.
Think of WGU as a freeway where each driver has multiple lanes to choose from. If you are a professional who already has the experience and knowledge, you don't need to take the same path that other students take. Just take the fast lane to get to your destination in fewer semesters. If you have other commitments in life and want to move at a slower pace, no problem. Just take the slower lane but make sure that in each semester you pass the minimum number of Course Units (CUs), which are not exactly college credits but you can think of them as credits. This is really for your benefit because if you don't stay connected to your program, you are going to have difficulty making progress and it will also cost you more because you have to pay for additional semesters. Each semester lasts six months, so you have plenty of time to pass the minimum number of courses (i.e. CUs) that are necessary that semester.
How you pay your tuition is another difference that separates WGU from other universities. Rather than signing up for 6 semesters to attend a two-year master's program, you pay for one semester at a time. The great thing is that you can take as many "assessments" as possible in one semester. The assessments are essentially the exams that you pass to prove your competency. Remember, WGU is competency-based. You don't have to prove that you sat in classes for two years and then passed your exams. You simply need to prove that you have the knowledge and competency by passing your assessments. If you can prove your competency quicker, just pay the tuition for the time that you need to prove your competency. This was another major factor that encouraged me to attend WGU, when I really had no plans of going back to the college again. For more information on how WGU is different from other colleges, visit WGU.
What People Say About WGU
Check out what U.S. President Barack Obama and Microsoft's Founder Bill Gates have to say about WGU. The following quotes, among many others, are posted on WGU's Web site.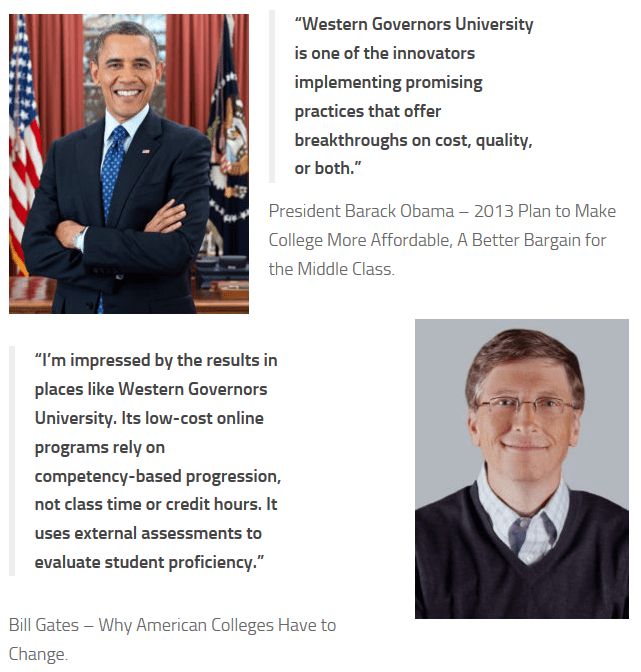 (Source: http://www.wgu.edu/about_WGU/what_others_say)
How Long Does it Take to Graduate?
Well, that's completely up to the individual. Online education is definitely not for everyone. Some people love it, others hate it. Also, the undergraduate programs are different than the graduate programs. In an undergraduate program you may experience some hand-holding but in the graduate program you are mostly on your own, and justifiably so. After all, you are working on your master's degree. In this article, I am strictly going to focus on the Master of Science in Cybersecurity and Information Assurance (MSCSIA) degree and share my experience with you. In my opinion, how quickly you graduate in MSCSIA depends on the following questions:
Do you have the professional background and experience in computer networking or cybersecurity?
If you do, you can challenge the courses by taking the assessments and complete the program quickly.
How much time are you willing to dedicate to your studies?
There's a tremendous amount of work that's involved in getting your MSCSIA degree. You need to be able to dedicate a certain amount of time each week to your studies.
How motivated are you?
If you need pep talks, cheering up, and pat on the back to get through this program, this may not be the right program for you. At the master's level you need to be motivated before you enter the program. There are some resources that the college can provide and the staff is willing to help you, but you get the picture.
How good are you at surfing the Internet?
There's a lot of research involved in this course.  If you are reading my article, chances are this should be a piece of cake for you :).
How comfortable are you with writing papers?
You will be writing dozens of papers. Most of them require research. Having a strong background in writing will be beneficial and will help you get through the program faster.
How disciplined are you with your time?
You will be studying at home. You have to be very disciplined with your time. You will have to meet deadlines, especially when you get closer to the end of the semester. Trust me, if you wait to finish your papers and assessments at the last minute, you are likely to be in big trouble.
I mentioned all of the above not to scare you, but just to set the expectations. The master's program I attended was a two-year program, but as I mentioned earlier, you have the flexibility to take the online courses at your own pace. I read online that an average student takes 29 months to graduate from WGU. Some students take less than two years, while others may take up to three years. The nice thing is that if you have the knowledge and experience, you can challenge the courses and graduate quickly. And that's exactly what I did. I officially started the program on June 1, 2016 and completed my last requirement on October 31, 2016, with 30-days to spare in my first semester. The actual time I spent on my degree program was 90 days, that's if I exclude the time when I didn't work on the program at all because of teaching classes, vacation, having friends and family from out of town visit me, and other activities. And in the 90 days that I am counting as "school days", I worked full-time running my business. And yes, I paid for only one semester to get my master's degree in Cybersecurity. What a deal!
I should point out, that graduating quickly was not my only goal. Yes, I wanted to graduate quickly but I was not looking to just get a piece of paper that says I have another college degree. My primary goal was to utilize the knowledge gained at WGU in my professional career. I am sure most of the students who attend WGU have similar goals. Their focus is on learning and not on graduating quickly. Despite having a lot of past experience, WGU was able to fill in the gaps that I had in my knowledge and I am really glad I attended WGU.
How Much Does it Cost?
In my opinion, WGU was designed just for me. I own a consulting and training company and don't have time to go to a traditional school. Frankly, I had no intention of going back to school because I was not looking for a job. I was looking to get the EC-Council's Certified Ethical Hacking certificate. A colleague of mine told me about the program and said "Zubair, you could do this in your dream." Hmm! I have been teaching Security+ for decades and most of the security domains in the course match with the curriculum in the program. I also have the practical hands-on experience with about 80% of the program. I thought I can get my Certificate Ethical Hacker (CEH) certificate, Computer Hacking Forensic Investigator (CHFI) certificate, and a master's degree in Cybersecurity for only $3,035. That would be awesome. But then I asked myself. Do I really want to go back to school for my fourth college degree? Well, my colleague encouraged me to sign up for the program and a few months later I am sharing this information with you.
I paid $3,035 for one semester, which included the MSCSIA Program Tuition ($2,890) and a non-refundable Resource Fee ($145). Here are the rates for the current tuition. According to WGU:
"WGU's Cybersecurity and Information Assurance degree program is typically about half the cost of other equally reputable IT programs. Other schools charge as much as $625 per credit, which can ultimately cost between $25,000 and $50,000 for your degree. WGU is different. You'll save thousands with our affordable, flat-rate tuition and an online learning model that won't require you to buy expensive textbooks. In fact, you can earn your master's degree from WGU for as little as $11,560."
Well, I would change the last sentence above and say that you can earn your master's degree from WGU for as little as $3,035, just like me. I find WGU to be very realistic in all its claims. They don't make wild statements just to get you in. They are fair and clear about their assertions and that's another reason why I highly recommend them.
TIP! If you decide to register at WGU, any current or former WGU student (like me) can waive your $65 one-time Application Fee. If you contact me, please use"WGU  Application Fee Waiver" in the Subject box.
Here's a recent tuition comparison from August 2016 provided by WGU.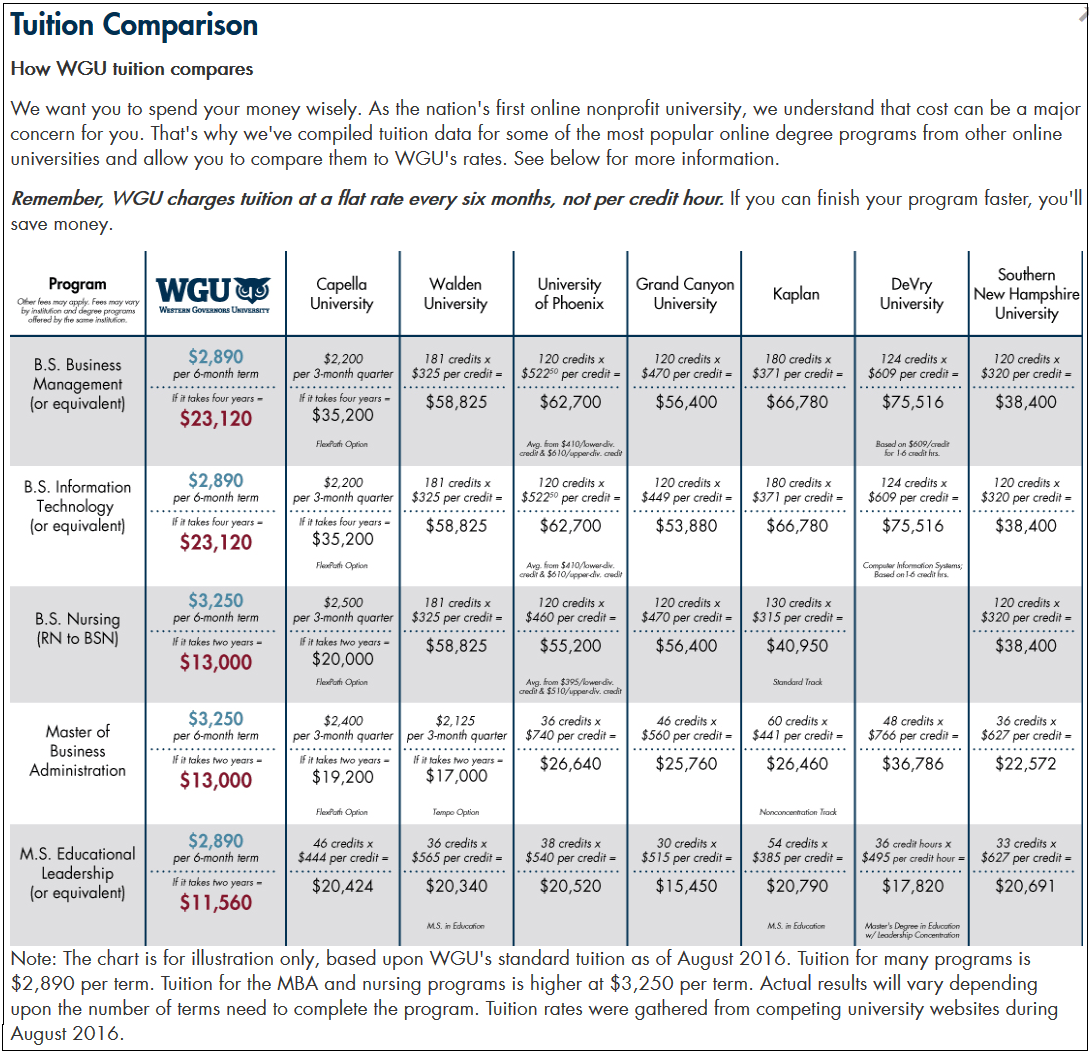 (Source: http://www.wgu.edu/popup/tuitioncompare)
WGU Student Map
WGU has students in all 50 states across the United States. As of September 30, 2016, Washington state has the highest number of students (9,204), Texas had 8,153 and California is third with 7,390. The average age of the student is 37 and the students age range is anywhere from the 20s to the 60s. The majority of students are not full-time students. They either have full-time or part-time jobs. The student population on September 30, 2016 was 73,925. You can visit the following map on WGU's Web site and hover over the state to see how many students are in your state.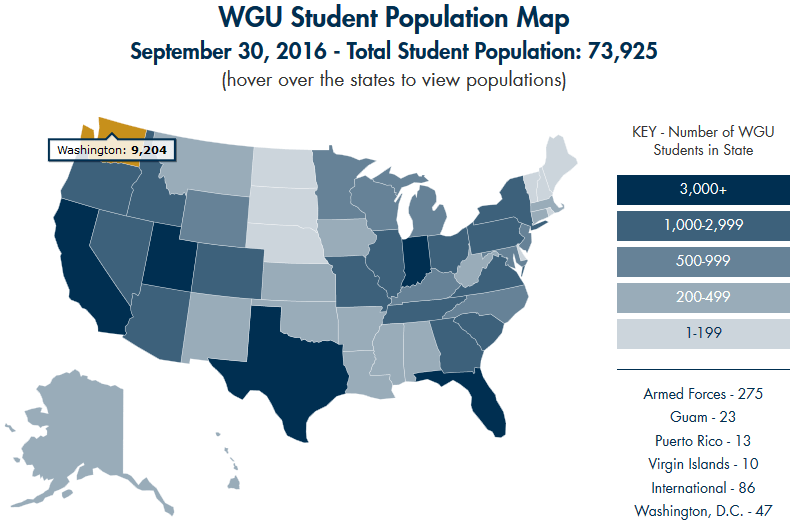 Areas of Improvement
There are a few areas in the MSCSIA program that need some attention to make a good program even better. My first advice to WGU is to assign an individual or a group of experts who should be responsible for ensuring that the course materials are always up to date. Some of the content, including labs, were somewhat outdated. However, I must point out that this wasn't all the school's fault. Some of the content was created, and can only be updated, by the third-party vendor who owns it. Because it was part of the certificate courses created by the vendor, WGU had no control over it.
Another improvement I would suggest has to do with the American Psychological Association (APA) Guideline that's offered to help students format a traditional APA-style essay. This guideline must be followed for writing all the papers. The 13-page guideline provided by school could use some work. In addition to adding more content that students need, I would suggest making it more readable and better organized. This is not a criticism of the author who wrote the guideline. It's quite possible that the document was written for a different purpose and the school is offering it to the students just to help them out. In any case, the school should either improve on this existing guideline, or provide a better option to the students. This was not an issue for me personally, because I have used similar guidelines for writing whitepapers and books for Microsoft and other publishers. However, this guideline is an important teaching aid and the majority of students, who are not authors, will really benefit from an improved, single APA guideline, rather than reading dozens of APA documents and watching multiple videos that are provided by WGU. The guideline doesn't need to be as detailed as Microsoft's 464-page Manual of Style, but an improvement to what is currently available will be appreciated by the students.
There are two papers that the students have to write at the end of their program as part of their capstone project that culminates what they have learned throughout the two-year program. The instructions in the template for the second paper, which is the major written report, are very confusing. The instructions in the template seem to be copied from the first paper and slightly modified to fit the second paper. The first paper is the proposal and is written in the future tense, the second paper is the final report and must be written in the past tense. The instructions in the template for the written report use the future tense and need to be fixed so the students are not confused.
Keep in mind, these are only a couple of areas that I feel need improvement. If you consider the vast amount of content that is provided to the students, this is a drop in the bucket. I don't want you to think that I am not impressed by the overall quality of WGU's program. Overall, the university does a fantastic job of helping students get through their program and provides a lot of good resources and mentoring. That's why I highly recommend WGU because it's non-profit, has high quality, low cost, and a great reputation.
Some Final Thoughts
I really enjoyed attending WGU. The university has really mastered its online education program over the years. I have not attended any other online school so I have nothing to compare with. I am sure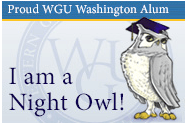 there are other good schools out there. My colleague did a lot of research before she told me about WGU. She totally convinced me that this is not only the best online university, with the lowest tuition, it is also perfect for us based on where we are in our career. I believe WGU is perfect for professionals who work full-time and can't afford to go to a traditional college in the evenings. Perhaps that's what the founders had in mind. However, it is really suitable for anyone who wants to get a college degree…..even high school graduates who want to get their first college degree can benefit from WGU. Because it's an online university, it's available to anyone who has access to the Internet. It's a reputable university with the names of so many governors behind it.
Although WGU is an online university, it has designed its programs so the students can't cheat or copy another student's work. In fact, if a student ever tried to cheat, he/she can easily get caught and get into trouble. That's one of the many ways for the school to be accredited like any other traditional university and ensure the high quality of its offerings. The way the entire online learning system is designed is really fun, interesting, and challenging all at the same time.
There are a couple of things that I would like to make it very clear to ensure that I am not giving you any false impressions.
Online education is not for everyone
Not everyone likes to read books on screen and watch dozens of hours of videos. Some people prefer to learn from a live instructor so they can interact and share ideas with other students in the class. While you can chat with other students online, the "Course Mentors" are not allowed to "teach" you. I don't know about the undergraduate programs, I am strictly talking about the master's program like the one I attended. As a student in a graduate program, you are expected to do your own research and "figure" things out. The Course Mentors are really good at providing you the resources and guide you in the right direction so I don't want you to freak out thinking that there is no help. There's lots of help!
Getting through your master's program in Cybersecurity is not easy
The program requires reading thousands of pages of books (most of them online), hundreds of hours of videos, tons of labs, writing dozens of  papers, and hundreds of hours of online research. I have the experience in the field and have been teaching, writing and consulting on security-related topics for over 20 years. Therefore, I was able to "challenge" the courses and take the assessments with very little studying because I was very familiar with most of the topics. Because I am an author, writing papers was the easiest part for me. For example, the final capstone project was expected to be somewhere between 40-60 pages but my paper was 97 pages long. I wasn't thinking about how many pages I have to write, I was focused on making sure that all the information that is required was covered in detail so I can pass the paper on my first attempt. As they say, your mileage may vary. There are lots of security professionals with much more experience than me and they should be able to graduate even quicker than me. However, the majority of students will be told over and over by their Course Mentors that there are no shortcuts in the courses. And as an instructor, I can totally understand why they say that. The moral of the story is don't be afraid, just be realistic and you will be fine.
The Student Mentors, the Course Mentors, and all the faculty at WGU is really nice and helpful. You will find the enrollment counselors, the IT help desk, and practically everyone else at WGU to be very supportive, courteous, and friendly. Their Web site is very easy to navigate and I was able to find out answers to most of my questions before I even contacted the school to sign up.
Overall, attending WGU was a very pleasant experience for me. I was able to fill in the gaps in my knowledge and I expect to fully utilize the education and lessons learned at WGU in my career. Hmm? I wonder if they will offer a doctorate program in Cybersecurity in the future.
I hope you will find this review to be helpful. If you decide to attend WGU, I wish you the best of luck.
---
Copyright © 2016 SeattlePro Enterprises, LLC. All rights reserved.