IE Error: Your Current Security Settings Do Not Allow This File To Be Downloaded
I was trying to download a file in Internet Explorer and receive the following error:
Your current security settings do not allow this file to be downloaded.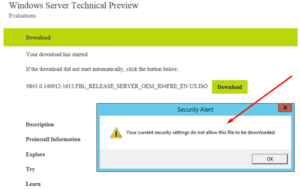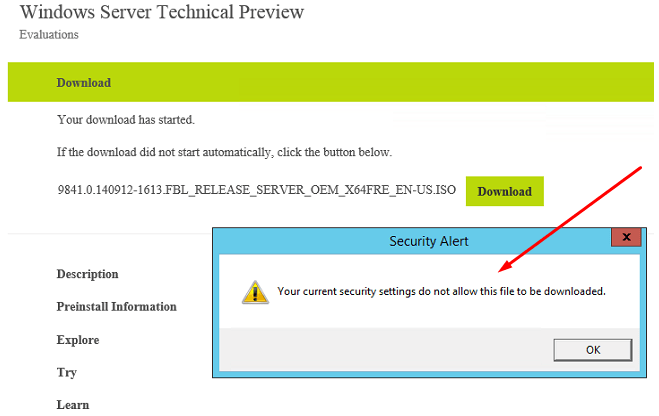 I looked at the Internet Explorer settings and noticed that the ability to download the file on my Windows Server 2012 R2 computer was disabled by default. I avoid surfing the Internet on a production Windows Server and don't even bother opening my browser but this server was not a production server and I run my beta software in Hyper-V on this server. For example, my Windows 10 Tech Preview and Windows Server 10 Tech Preview are running on this server.
Here's the step-by-step procedure for making the change to the security settings that will allow you to download files.
Start Internet Explorer 11.
Click on Tools -> Internet Options -> Security tab -> Custom level.

Look for the Downloads section.
Under the File download option select Enable.

Click OK to close the popup window.
Make sure that in the Miscellaneous section the option Launching applications and unsafe files is set to Prompt. Also make sure that the option Launching programs and files in an IFRAME is set to Prompt.

There is no need to restart the browser or your computer. Simply switch to the page in your browser where you were unable to download the file and try again. You should now be able to download the file. If you can't, then restart the browser.
Go back and disable the option to download files. This last step is optional, depending on the security level required on the computer.
On a production server I recommend disabling the ability to download files in your Web browsers. In other words, as a best practice, do not make the change in this article on servers, only make the change on a client workstation. If you have made changes to the Internet Explorer settings and are not sure about all the changes that you have made, you may want to Reset all zones to default level just as a precaution. See the screenshot in Step 2 above for this option.
WARNING!
If you receive the error "Your current security settings do not allow this file to be downloaded" again at some point in the future it's most likely because of an Internet Explorer update. You need to go back and repeat Step #4 above if you want to download files again. Obviously, for security purposes Internet Explorer is disabling the ability to download files which is a good thing because as a best practice you don't want to be running a Web browser or downloading files form the Internet on a Windows Server.

---
Copyright © 2015 SeattlePro Enterprises, LLC. All rights reserved.