Zillow Group Pledges $5 Million for New UW Computer Science & Engineering Building
Seattle-based Zillow Group has pledged $5 million to help the construction of a second Computer Science & Engineering (CSE) building at the University of Washington (UW) campus in Seattle. Zillow Group is the parent company of the famous Zillow real estate and rental marketplace.
Zillow Group is not the only organization funding this new building, other Seattle-based companies have also chipped in. Microsoft contributed $10 million in June 2015 and Amazon pitched in another $10 million in October 2016. The university plans to raise up to $77 million. So far $55.7 million has been pledged and UW expects another $32 million on state funds.
Seattle is among the largest technology hubs in the United States. Some neighboring cities, like Bellevue, are littered with tech companies. These companies, especially the giants, like Microsoft and Amazon, have a vested interest. Their contributions not only help the city and its residents, it also helps these companies generate skilled workers that they so desperately need.
According to this article by Jennifer Langston in UW Today, the new building will double the number of CSE degrees handed out by UW each year. As a former graduate of the UW engineering program (in Aeronautics & Astronautics), I really appreciate the contributions from these local tech companies. UW has to turn down about 66% of the qualified applicants each year because there is just not enough room for these students. The addition of this building will help accommodate many more students.
"Zillow Group's pledge is a natural extension of its longtime partnership with UW CSE. The company's donation will help fund construction of a new 130,000-square foot, state-of-the-art facility — slated for completion in 2019 — that will provide much-needed classroom, laboratory and collaborative spaces. One of the building's highlights will be the "Zillow Commons," a 3,000-square-foot event and multiuse space to be used by students, faculty and the community."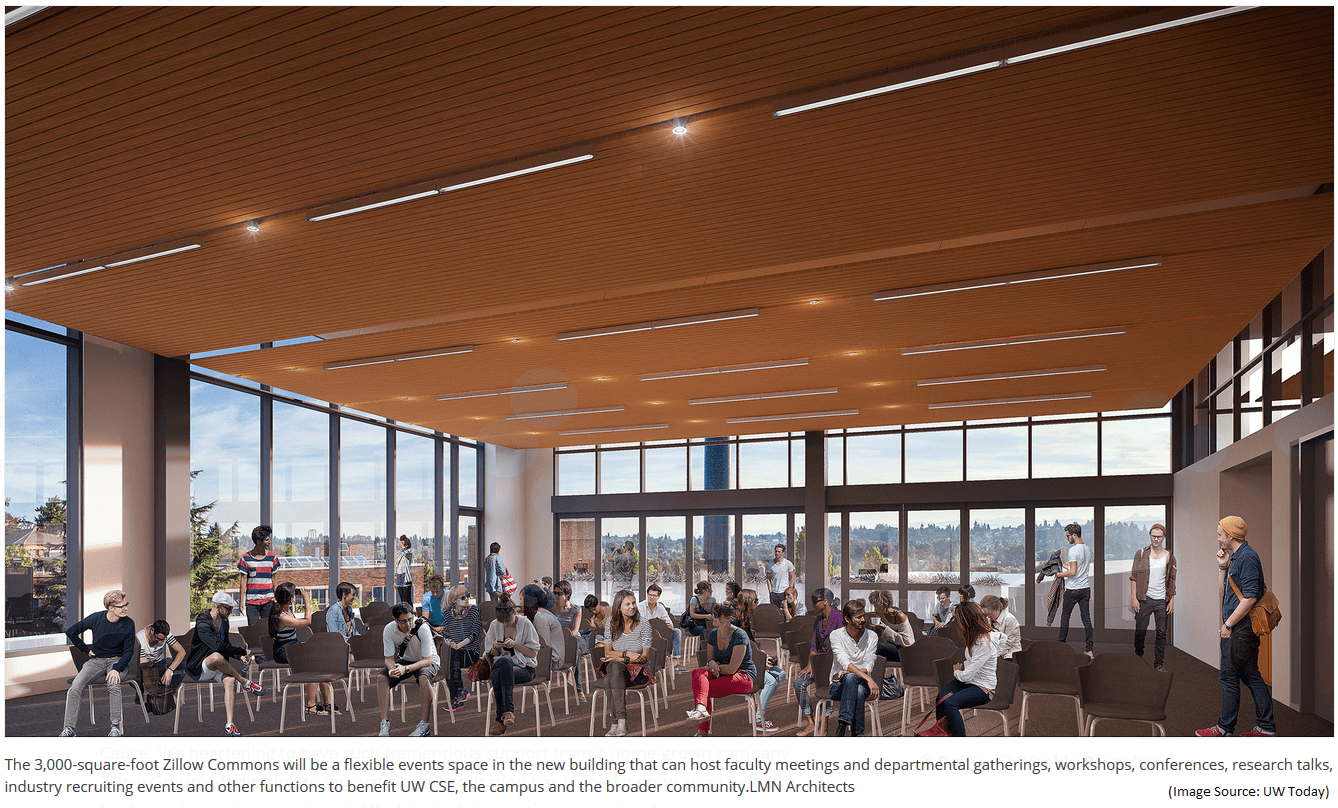 Over the years, Zillow Group has partnered with the UW on various projects. One of the projects was the hackathon to build apps. That project was instrumental in assisting individuals who were using federal housing vouchers find low-income housing. In its press release, Zillow Group explained why its contributing to this cause:
"As Zillow Group's first corporate donation, our hope is that this gift will help expand the education opportunities in our state and ensure more young people have access to high quality STEM education."
Zillow Group was named one of Fortune's Best Workplaces for Parents in 2016. If you are wondering what makes them so great, check out some of their family-friendly benefits.
16 weeks paid maternity leave
8 weeks paid parental leave
$1,000 "Baby Bucks" to help new parents purchase the essentials
$5,000 per employee toward adoption-related expenses
Free breast milk shipping for working mothers on business trips
Fully equipped nursing rooms with hospital-grade pumps and fridges
Infertility care fully covered under Zillow Group's health care plan
Backup childcare
---
Copyright © 2017 SeattlePro Enterprises, LLC. All rights reserved.