Textalyzer Will Help Police Catch Drivers Who are Texting and Driving
The Seattle Times published  a story last week about a new device called "textalyzer." Just like breathalyzer can help law enforcement identify drunk drivers, textalyzer would allow police to determine if a driver was texting or emailing before the accident.
New York Governor Andrew Cuomo has shown interest in testing the device, which is still in the development phase. Governor Cuomo told the Associated Press that "Despite laws to ban cellphone use while driving, some motorists still continue to insist on texting behind the wheel — placing themselves and others at substantial risk." The governor has asked the Traffic Safety Committee to look into the privacy and civil liberties issues related to the use of textalyzer.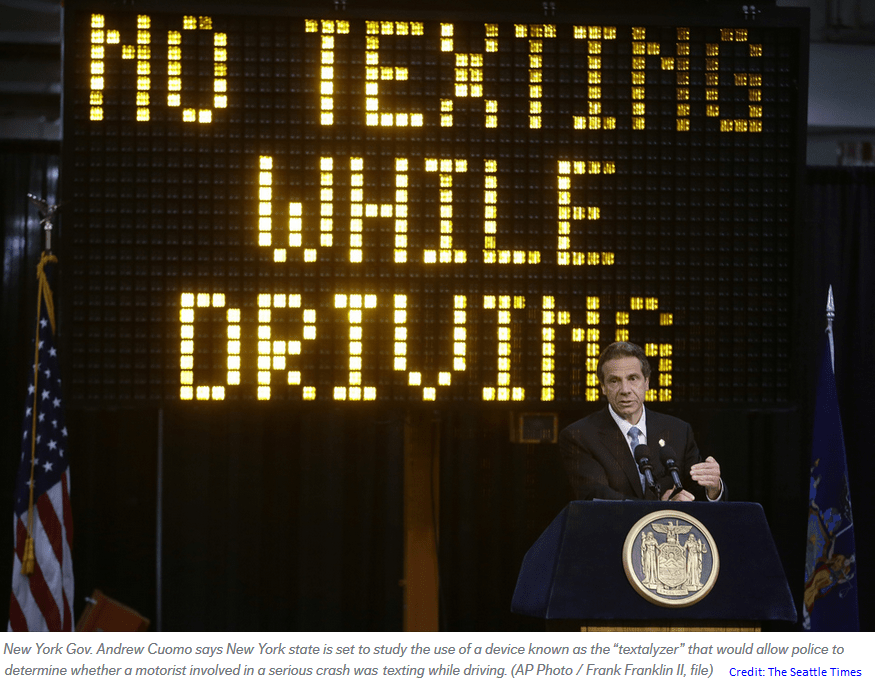 The  supporters of the device say that police officers won't be able to access the driver's personal information, such as photos, emails, browsing history, etc. The civil liberties groups believe that people's privacy could be violated by using the textalyzer. Between 2011 and 2015, 2,784 people were injured and 12 people were killed in New York state due to cell-phone related accidents. According to the state statistics, in the that same period 1.2 million tickets were issue for cell  phone violations.
Chances are that the use of textalyzer will some day become the law of the land throughout the United States, just like breathalyzer, because it will save lots of lives. Similar to drinking and driving, texting and driving is already illegal. The cell phone companies are likely to be against this device, just like they insisted that people should be able to talk on their cell phone in one hand and drive with the other. However, it's common to oppose some of the new laws that are inconvenient, such as wearing seat belts, but over time once the public realizes how many lives are saved by enacting such laws it becomes more acceptable and they become a norm.
Thanks for reading my article. If you are interested in IT training & consulting services, please reach out to me. Visit ZubairAlexander.com for information on my professional background.
---
Copyright © 2017 SeattlePro Enterprises, LLC. All rights reserved.