Mozilla Firefox Easter Eggs
As you may know Mozilla Foundation started in 2003 after Netscape closed its browser division on July 15. If you type about:mozilla in the address box you well see the subliminal message from Mozilla. For example, in December 2007, the following verse appeared where the reference was made to the fire (Firefox) and thunder (Thunderbird) from the so-called The Book of Mozilla, 7:15. The numbers 7:15 referred to the date Netscape ceased to exist and Mozilla was born.

Today, if you type about:mozilla in Firefox, you will notice the following verse. The reference to Mozilla Firefox's success is obvious.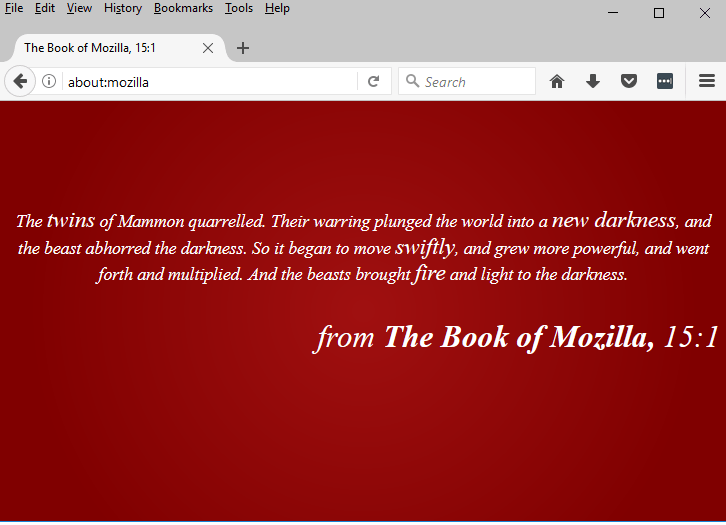 The Book of Mozilla is not really a book, it only contains verses poking fun at Netscape and contains subliminal messages about Netscape's battle against Microsoft Internet Explorer and the rise of Phoenix (Firefox's original name) from the ashes of Netscape. For a complete history of The Book of Mozilla, visit https://www.mozilla.org/en-US/book/. You will see the following 5 verses.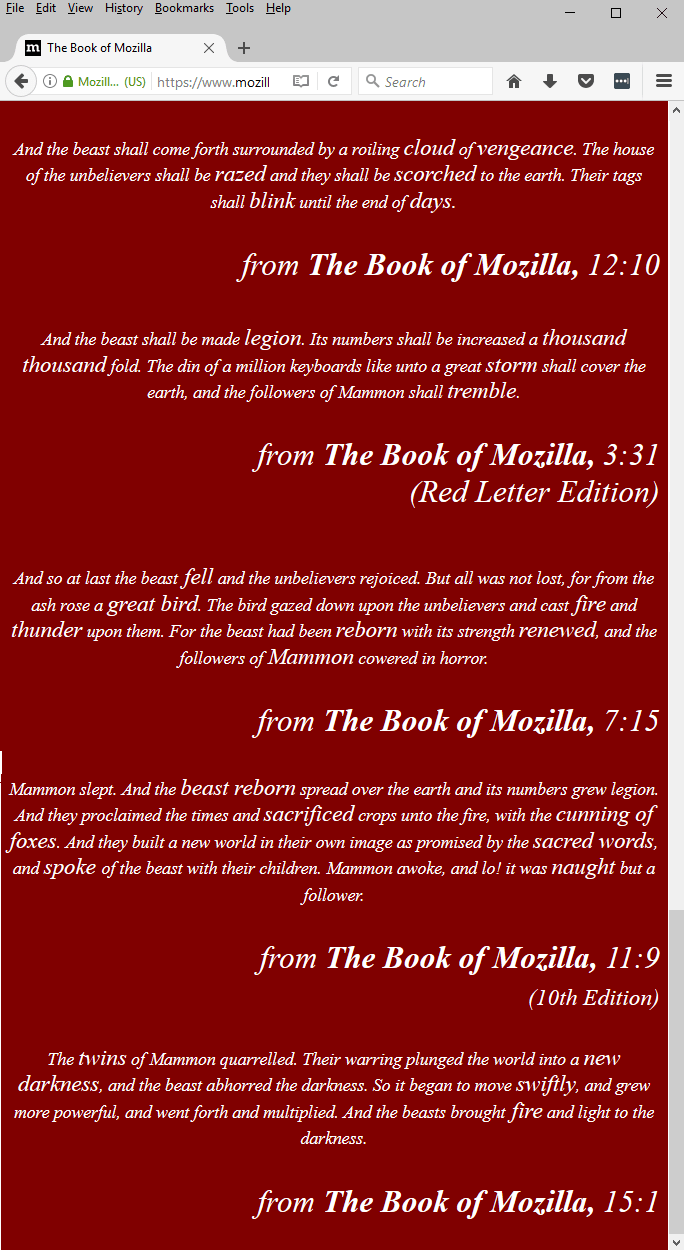 The About pages in Firefox contain a bunch of Easter Eggs. Check them out by typing the following commands in Firefox's address box.
About:About
About:Config
About:Crashes
About:Credits
About:Mozilla
About:Permissions
About:Robots
About:Support
Mozilla's blog post Easter Eggs Come From Foxes, Too contains more details on these Easter Eggs. You can even run an instance of Firefox-in-Firefox in Firefox by typing chrome://browser/content/browser.xul. And if you really get bored and have nothing else to do, you can keep on typing chrome://browser/content/browser.xul and it will keep on starting a Firefox Window inside Firefox, something like this.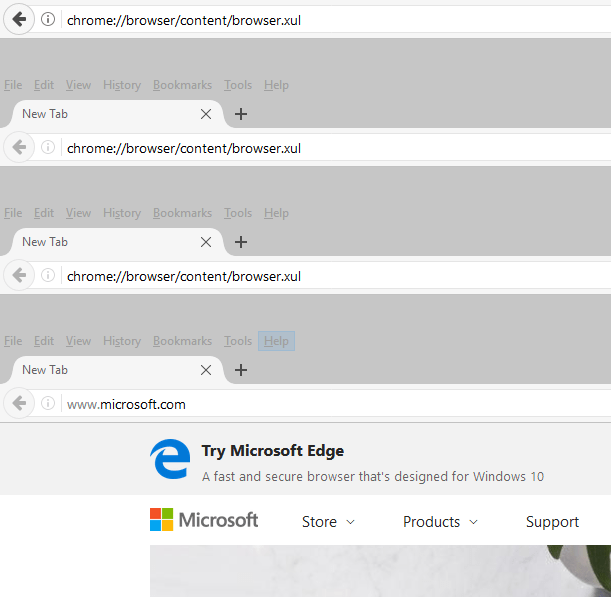 Cheers!
Thanks for reading my article. If you are interested in IT training & consulting services, please reach out to me. Visit ZubairAlexander.com for information on my professional background.
---
Copyright © 2017 SeattlePro Enterprises, LLC. All rights reserved.