Manage Office 365 from Your Mobile Device
Microsoft Office 365 includes SharePoint Online, Exchange, Azure Active Directory, Skype for Business and Microsoft Office. If you are an Office 365 administrator and would like to manage your Office 365 users and services from just about anywhere, try this Office 365 Admin app from Microsoft. The app allows you to receive notifications, add users, reset passwords, create support requests, and more. The app is available for download from the Apple Store, Windows Store and Google Play. See the download links at the end of this article.
As you can see in the screenshot below, you will be able to see how many users don't have Office 365 licenses, whether your service health is degraded or not and if you have any unread messages. You will also be able to see how many service requests you have. The Health dashboard will allow you to quickly see the status of the service and you will be able to dig deeper for more details if there are any service incidents.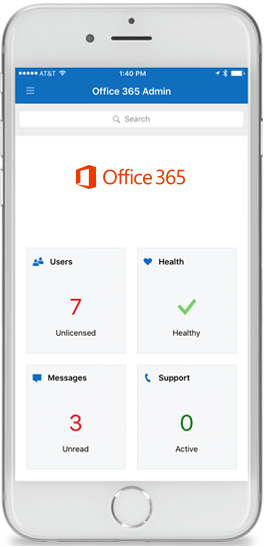 The Office 365 Admin app can come handy when you want to check the Office 365 service requests, or create new ones. You can also keep an eye on the service health and change notifications so you are prepared for any issues related to your services. Of course, you can reset user passwords, add new users and licenses, and enjoy the convenience of managing your users and services for SharePoint Online and Office 365 environment from your mobile device.
Make sure that you are using the best practices for accessing your network with a mobile device connected to a wireless or WiFi network, which are inherently less secure than your corporate desktops and laptops that are connected using Ethernet cables. Luckily, the app supports multi-factor authentication. You can also configure the app to use a 4-digit PIN, which provides an additional level of security.
At the time of writing, the Office 365 Admin app is available in the following 7 languages: English, Brazilian Portuguese, Traditional Chinese, French, German, Japanese and Spanish. Here are the links for downloading the Office 365 Admin app for various devices.
Visit Google Play for Android 4.0+.
Visit Windows Phone Store for Windows Phone 8.1.
Visit Apple App Store for iOS 7+.
---
Copyright © 2016 SeattlePro Enterprises, LLC. All rights reserved.