UW Researchers Can Open an Electronic Door by Sending a Password Securely Through a Human Body
Think about how cool it would be if we could send passwords securely through our body, rather than Wi-Fi, Bluetooth or radio waves, to let's say open a safe or the entrance to a secure lab? Well, now we can. Just imagine the possibilities. Thanks to the University of Washington (UW) computer scientists and electrical engineers who have found a way to transmit passwords through human body using low-frequency transmissions that are produced by fingerprint sensors on smartphones and computer touchpads.
This amazing discovery has been credited to the research team that includes UW electrical engineering doctoral students Vikram Iyer and Mehrdad Hessar and computer science and engineering assistant professor Shyam Gollakota. Yes, this is the same professor who invented a contact lens that communicates with a smartphone over Wi-Fi. According to UW Today, these researchers first tried to figure out which smartphone sensors can generate low-frequency transmissions below 30 MHz that can travel through our body without leaking the information into air that can be stolen by someone. Once they figured that out that fingerprint sensors and touchpads can generate such signals in 2-10 MHz range and they knew that the sensors use these signals to receive input about a human finger, somehow they devised a way to use this information as output and transmit a password through human body.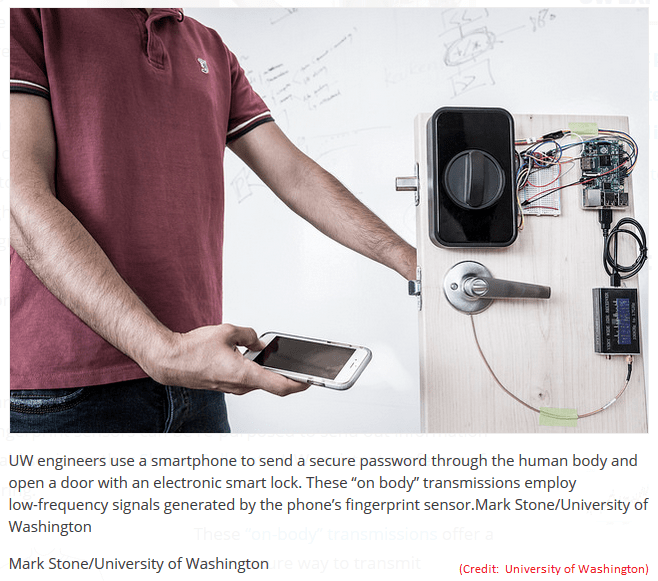 As you can see in the image above, a smartphone can be used to send your password through your body to open an electronic lock on the door by using the low-frequency 2-10 MHz signals that are generated by the fingerprint sensor on a smartphone. "Let's say I want to open a door using an electronic smart lock", one of the researchers Mehrdad Hessar said, "I can touch the doorknob and touch the fingerprint sensor on my phone and transmit my secret credentials through my body to open the door, without leaking that personal information over the air." Sending information over Wi-Fi, Bluetooth, or similar media can be risky because information can be stolen or hacked. Using your body would be akin to using a hardware cable to communicate. I guess this will work great until someone figures out a way to hack our bodies :-). Don't worry, I am confident by then UW researchers will find ways to either enhance this technique or find an even better way to communicate…..perhaps by using our brain? No, I am not kidding. The UW researchers are known for their amazing inventions and discoveries. Check out my article UW Scientists Can Tell What You are Thinking.
The researchers did a lot of tests on people with different height, weight and body types and discovered that the results were consistent even when the people were moving around or walking. In other words, the subject didn't have to be still in order to transmit passwords. These are fascinating discoveries.
There's much more interesting information on this topic in Jennifer Langston's article on the UW Today Web site.
---
Copyright © 2017 SeattlePro Enterprises, LLC. All rights reserved.