Disappearing Text Messages – A Known Android Bug for Almost 2 Years?
Today a friend of mine called me and said that all of a sudden all his text messages have disappeared on his HTC EVO 4G. I did a little research on this issue and discovered that it appears to be a bug in the Android operating system (OS), rather than HTC EVO 4G because there are thousands of people reporting this error with different phones running Android OS (HTC EVO, Incredible, Droid, etc.).
Because Google, the maker of Android, does not have a fix for this bug at this time, even though they have known about this bug for a long time, all you can do at this time to prevent from potential disaster is backup your text messages if they are important to you. Resetting, rebooting, and other similar solutions don't seem to help. The tech support for cell phone providers don't know what to do so they may just tell you to reset your phone. It's like you complaining that you accidentally deleted a file and would like to recover it and the tech support telling you why don't you format your hard drive. Hello? that will wipe out all your data and everything on your computer. All kidding aside, I do sympathize with the tech support because they are not responsible for fixing bugs in Google's operating systems. They only hope that you won't lose your text messages again in future after the reset but unfortunately people still have the same problem after resetting their phones.
According to my research, Google is aware of this issue since December 26, 2009 and has listed this bug as a high priority (no kidding). The case number is 5569: http://code.google.com/p/android/issues/detail?id=5669. As of today (October 1, 2011) Google does not have a fix for this bug in almost two years. If you have an Android phone and have not run into this issue, you are lucky like me (I have an HTC EVO 4G). If you have lost your text messages there is not really much you can do. If you haven't, here's my recommendation on what to do.
Download the FREE SMS Backup+ app from the Android Market which will allow you to backup all your text messages and your call logs. Although there are lots of other similar apps, I like this particular app. It connects you to your Gmail account and backs up all your text messages in a Gmail Label called SMS (you can choose a different label if you want). Obviously, you can print, forward, or do whatever you want once they are in Gmail. If you use Microsoft Outlook, you can add your Gmail account as a POP3 or IMAP account in Outlook and receive all your text messages from SMS Backup+ in your Outlook Inbox. If you want to automatically move them to a different folder, just set up an Outlook rule. Here are a couple of screenshots from the Android Market Web site.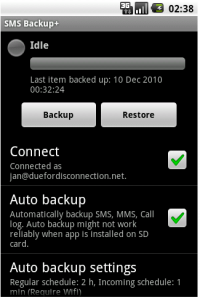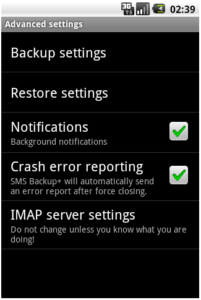 You can configure SMS Backup+ to automatically back up your messages at a regular interval using the Auto Backup feature. At this time the apps let you  backup both SMS and MMS messages, however, you can only restore SMS messages. Another nice feature is that you can also backup your Contacts to Gmail, if you want, otherwise just backup text messages. I think this app is way better than relying on your cell phone provider (Sprint, Verizon, etc.) to restore your messages or contacts.
If you are not worried about getting your text messages disappearing then you may not be interested in this post. However, be aware that one issue reported on HTC Forums is that if you send a message and notice that suddenly all your text messages have disappeared, all the people who received your message may also have their messages completely disappear. It's like your messages committing a team suicide of sorts. This behavior makes you wonder if it is related to some kind of virus. At this point we don't know for sure. Talking about antivirus, you might want to install an antivirus app on your smartphone, if you haven't already. For example, you can download and install the free AVG antivirus app from the Market.
When you backup the messages and contacts for the first time you will connect to your Gmail account and will be asked to allow SMS Backup+ access to your Google account. According to the developer, the app will not have access to your password or other personal information. Depending on the number of text messages and contacts it can take hours so it might not be a bad idea to first delete any unwanted text messages and contacts and then start the back.
---
Copyright ©2011 Zubair Alexander. All rights reserved.